Click here to BUY A PRINT of this painting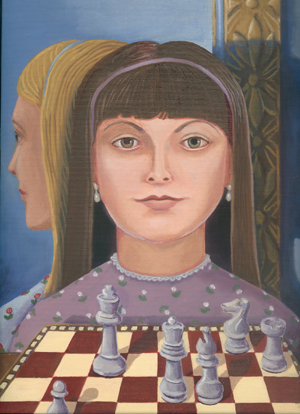 Portrait of the "real" Alice, for whom the beloved books were written by Lewis Carroll. Reflected in the looking glass is the storybook Alice.

Alice Liddell, with her penetrating, intelligent gaze, was photographed as a child by Carroll and as an adult by Julia Margaret Cameron. My portrait is a composite of these photos, showing a timeless Alice, neither child nor adult.

Keywords / tags: alice "alice in wonderland" author bishop blue book british check checkmate chess "chess piece" "chess set" chessboard child children "children's book" double english face figurative "fine art" game giclee girl gold golden homage humphrey illustration image king knight lavender "lewis carroll" Liddell literary "looking glass" maturity mirror narrative oil painting pawn play playing print purple queen red reflect reflecting reflection rook series sheryl "Sheryl Humphrey" story storybook tribute victorian woman women youth