Click here to BUY A PRINT of this painting
Buy NOTECARDS of this painting at Amazon.com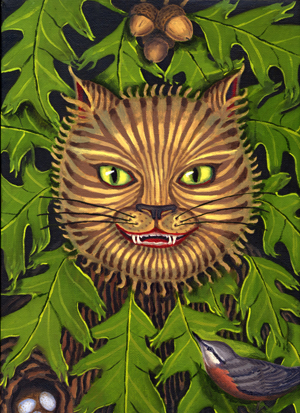 Not a portrait, but a tribute to the fierce spirit of a beloved pet who had recently passed away.

"[S]he was a little startled by seeing the Cheshire Cat sitting on a bough of a tree a few yards off.

The Cat only grinned when it saw Alice. It looked goodnatured, she thought: still it had very long claws and a great many teeth, so she felt that it ought to be treated with respect." -- from "Alice's Adventures in Wonderland," by Lewis Carroll.