"JonBenet Triumphant," © 1997, oil on linen, 12x9 in. Collection of Mitzi Humphrey, Midlothian, VA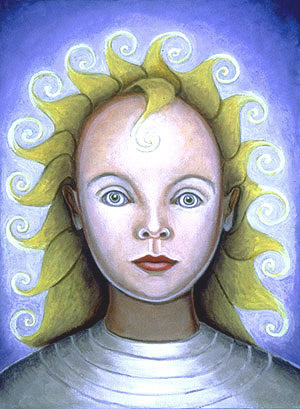 I painted this work in 1997, when JonBenet's face was seen on the tabloids on every New York City newsstand. Her tragic story deeply disturbed me. The painting is intended to be a tribute to her spirit. I wanted to depict her as ageless, a combination of the little child she was and the adult she did not grow up to be. The stylized and exaggerated curls of hair in the painting now represent a life force rather than the shallow trappings of
beauty-pageant makeup.

I tried to paint JonBenet as having found new strength in the afterlife. Her expression can look peaceful, but there is also a power that she was not allowed in life. I envision this image to be what haunts her killer(s). She serenely reminds them that they will pay for what they did--if not now, then later.